NOV 2014
Saturday, Nov 8, 2014


Come Join us at The Coalition for Public Education's 5th Annual Convention
DC37 - 125 Barclay St

at The Westside Highway, Saturday, Nov 8th from 9:00AM to 3PM


A FREE EVENT / Donations Accepted


Power Panels and Power Workshops with Parents,
Educators, Progressive Politicians and Students.

Call for Info at: 347.583.5925
FEB 2013
Saturday, Feb 9, 2013


Lifeforce V Shona Stone Sculpture Exhibit and
Langston Hughes Community Library & Cultural Center (LHCLCC)
will have a joint receptionon on Saturday, Feb 9th 11am to 5pm.
There are 36 items in the exhibit.
Lifeforce V is in the attractive Langston Hughes gallery from
February 1st thru March 31st.
The Feb 9th reception is part of an annual day of festivities
(11am-5pm) commemorating Langston Hughes.
Recommended viewing time: noon-3pm.
LHCLCC is located at 10001 Northern Blvd. (at 100th St. in Corona, Queens), near the Junction Blvd. Stop on "7 Train"
Public Transit: www.hopstop.com/search
Driving: www.mapquest.com
Note: Many exhibit pieces have been contributed to S.E.E.D.S. and are available
in exchange of tax-deductible donations.
Again, I encourage you to come out and to share this information with friends
and associates. Asante sana.
MAY 2012
Saturday, May 5, 2012


Come Join the First People's Assembly for Public Education to Launch the
People's Board Of Education
DC37 - 125 Barclay St

at The Westside Highway

8:30AM to 5PM
RSVP & INFO at: 212.362.6021

JULY 2011
Saturday, August 13, 2011


"S.E.E.D.S. calls on the Pan African Community of NYC, members of the PACE Network
and all supporters of the global grassroots social justice movements to be "presente"
at 110th Street and Malcolm X Blvd. at 10 am on August 13, 20011."
HARLEM MILLIONS MARCH

END

the Bombing of Libya
the Illegal Sanctions in Zimbabwe
Bloomberg's Destruction of Education, Housing, Health Care, Jobs


Pan Africanism Rising Against Imperialism! Assemble at 10 AM 110th Street and
Malcolm X Blvd Harlem New York Pan Africanism or Perish!
FOR MORE INFORMATION CALL (347) 737-3272
August 2011 - December 2011 *** Ujamaa Empowerment Raffles***
"...COOPERATIVE ECONOMICS IN ACTION"

Your Community Organization's (or Church Group's) Youth, Education, Health and Community Service work can benefit directly.
Enjoy the Art, Read Below and Contact Us!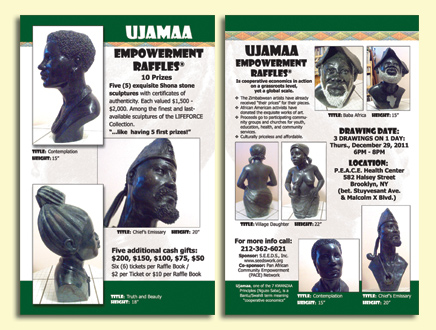 OCTOBER 2011
Saturday, October 15th
"THE TRIAL IS COMING"

For more information, call 212-362-6021 or 347-785-3418, or email cpe.cep@gmail.com
SUMMER 2011
July 14th, 21st, 28th - August 4th, 11th and 18th, 6-8pm
"PARENTS TAKING THE LEAD INSTITUTE"

Organizing parent leaders to take control of NYC's Public Schools
Contact 212-362-6021 or 347-785-3418, or email" cpe.cep@gmail.com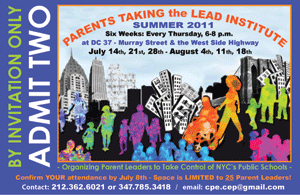 Copyright © 2014 S.E.E.D.S., Inc.